Dr. Toni Petrinovich
Spiritual Healer

Are You an Angelic Human?
by
Irene Blinston, Ph.D.

Emerging from a childhood filled with apparitions and a devout spiritual desire to become a nun, Dr. Toni Petrinovich left the convent almost as soon as she entered. Her stay was abruptly interrupted by the lure of equus. He mother bought a horse in hopes of luring her daughter out of the convent and back home. Her mother's plan worked. Yet, the strong spiritual side of Toni Petrinovich remained firmly intact.

When I called to interview Dr. Petrinovich I was surprised to find on the other end of the phone a very fast paced and passionate speaker. She didn't beat around the bush in any of her answers, comments, or statements. She is an avid reader, keeping up with the latest in science and sharing her findings in her talks and workshops. I was impressed with her ability to articulate, in both scientific and lay terms, her latest discovery concerning the brain and its ability to regenerate itself. Her attitude was one of, "don't believe me, look it up for yourself", after which she was more than happy to provide references and resources.

Dr. Petrinovich has a strong conviction to her purpose, which is the recognition of her spiritual and cellular connection to the angelic world and helping others connect to theirs. She is a long time teacher of the law of attraction, and desires that everyone understand the law so people's fear, grief, and pain can be eliminated. She respects people's belief systems, and uses their beliefs to convey her point that we are all God, that omnipotent energy that is all things. Thus, she works towards the elimination of feelings of abandonment and separateness.

While in our conversation, Dr. Petrinovich firmly reminded me of my slipping into a negative mindset. I was mentioning how difficult some of her work must be in showing people that their thinking is causing their life experiences. She told me that the word "hard" is not in her vocabulary, because she does not want "hard" manifested in her life. I checked myself and realized what I had done, regressed. It was a great reminder!

In our conversation we shared stories about being in situations that could have very easily turned bad, but we used our own choices to not let the bad situation happen. We chose to change the situations with the power of our minds and our feelings. Her story involved a waiter at a restaurant and mine with the Dept. of Motor Vehicles (DMV). For both of us, what could have been a very difficult and/or uncomfortable situation turned into experiences that maintained a positive and pleasant flow.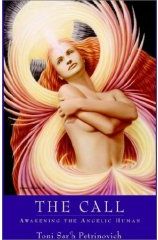 Learn more about Dr. Petrinovich by reading her book (The Call: Awakening the Angelic Human
), and visiting her website.
Please visit her website at: Sacred Spaces