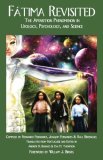 Fátima Revisited: The Apparition Phenomenon In Ufology, Psychology, and Science

May 2008, Anomalist Books
Is it possible that religious apparitions are really visitations of beings from other planets?
The third book in the "Fátima Trilogy", Fátima Revisited addresses this question. This book is a collection of chapters contributed by experts in the fields of Ufology, Psychology, and Science. Dr. Blinston is a contributor to this book.
The chapters in this book, each from a different researcher, provide a broad sprectrum of views of paranormal phenomena.
From the publisher's website:
"The Fátima Incident of 1917 was a critical event in the history of the paranormal. Believers and skeptics have long pondered the identity of Our Lady of Fátima, the brilliant entity who appeared above Fãtima. Was she the Virgin Mary, sharing divine secrets with believers? Was she an angel, bringing a message of peace to a world at war? Or was she an alien being, inspiring humanity to look up and contemplate the mystery of the Cosmos? Now, in Fátima Revisited, an international panel of top scholars subjects the legendary apparitions of Fátima - widely regarded as a sacred religious event - to the scrutiny of modern scientific analysis; explores the connections between encounters with apparitions, angels, and aliens; and proposes a new paradigm for such unexplained phenomena. This third volume in the acclaimed trilogy, which includes the definitive histories of the Fãtima case entitled Heavenly Lights and Celestial Secrets, is the result of a transdisciplinary study by the Multicultural Apparitions Research International Academic Network (Project MARIAN) at the University Fernando Pessoa in Porto, Portugal."
Contributors include:
Anthropologist SCOTT ATRAN
Researcher RAUL BERENGUEL
Psychologist IRENE BLINSTON
Psychotherapist JANET ELIZABETH COLLI
Anthropologist RYAN J. COOK
Physicist ERIC DAVIS
Engineer FERNANDO FERNANDES
Historian JOAQUIM FERNANDES
Historian DAVID M. JACOBS
Psychologist STANLEY KRIPPNER
Neurophysiologist FRANK McGILLION
Physicist AUGUSTE MEESSEN
Psychotherapist GILDA MOURA
Neuroscientist MICHAEL A. PERSINGER
Psychologist VITOR RODRIGUES
Psychiatrist MARIO SIMÕES
Astrophysicist JACQUES F. VALLÉE
The first 2 books from the trilogy:
---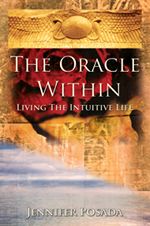 The Oracle Within: Living the Intuitive Life
by Jennifer Posada
Jennifer Posada; 2006
Are you hiding your inner oracle?
In the Preface of The Oracle Within, Ms. Posada stated openly that the book is not written in a conventional manner. The book is written from the "voice of her heart". This book is a beautiful read. She began by sharing her early life from her birth as an open channel and a tonsillectomy at 7 years old that lifted any remaining veils from this physical world and the other dimensional worlds opening her to communication, apparitions, and other psychic phenomena. Ms. Posada's "heart voice" was successful in whisking this reader away to the dreamy realms of her experiences and kept me in that state as she shared insights concerning oracles of past civilizations and cultures, her past life recollections, and the facts of all that is available to us in our intuitive lives everyday. The last chapter in the book, "Passion and Risk: Flame in the Heart" touched this reader in a poignant way. I highly recommend this book to everyone who wants to reconnect to, or not forget, the intuitive spiritual beings they already are.