Other Websites
by Dr. Blinston
~ no new announcements at this time ~
What's Interesting on YouTube?
The Spontaneous Production of Sacred Ash and Holy Nectar

This supernatural process occurs in a variety of places around the world. The devotees usually ...read more
Dr. Toni Petrinivich
Spiritual Healer

Are You an Angelic Human?
by
Irene Blinston, Ph.D.

Emerging from a childhood filled with apparitions and a devout spiritual desire to become a nun, Dr. Toni Petrinovich left the convent almost as soon as she entered. Her stay was abruptly interrupted by.... read more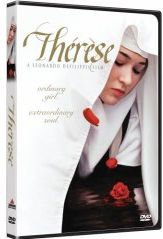 Therese

On DVD
Recommend

Prior to watching this film I was unaware of Therese of Lisieux having a visionary experience, if not a religious apparition, of Mary. Although I was touched by the content of the story, this film was disappointing in its depiction of a supposed "spoiled child".

While watching the film I felt that the director must have had a stern representative of the Vatican 2 inches behind his back the entire time of shooting—watching to make sure that no matter what, Therese was portrayed as "saintly" even in her "spoiled child" years. If Therese's behavior was such that .... read more
Understanding Profound Religious and Paranormal Experiences
Private consultations, workshops, and seminars.
The Portal (psychomanteum)
Sessions in The Portal (psychomanteum), seminars, training
Professional Astrological Consultations
Discover your full potential, step into your power
An examination of religious apparitions and other religious phenomena: Apparitions, Healings, and Weeping Madonnas: Christianity and the Paranormal

A scholarly study of religious apparitions, specifically people who experienced a religious apparition of Jesus or Jesus in a religious vision: Visions of Jesus: Direct Encounters from the New Testament to Today